Lodi Memorial Cemetery
Founded in the late 1800s, Lodi Memorial Park & Cemetery is cited as the oldest cemetery in Lodi. Nestled among the quiet countryside vineyards, it features one of the oldest mausoleums in California, built in 1928.

Surrounded by majestic towering pines, Lodi Memorial Park & Cemetery leaves you with a feeling of peace and tranquility. The pioneer section features a variety of legendary upright monuments and family estate mausoleums of our founding families, as well as impeccably maintained gardens. The rich heritage of this cemetery has been maintained, for over 100 years.
​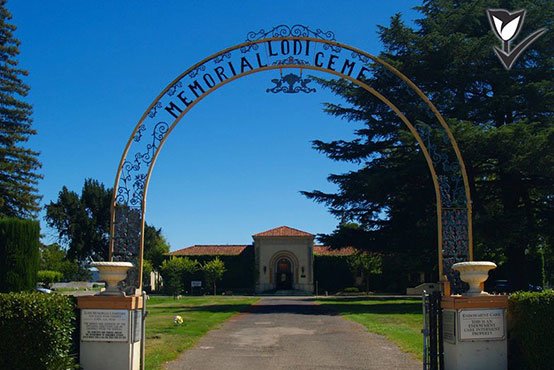 Lodi Memorial Park & Cemetery offers traditional and cremation in-ground burials.

CEMETERY INFORMATION
ADDRESS: 5750 E Pine St, Lodi, CA 95240 / LICENSE: COA 617

PHONE: (209) 333-7171
CEMETERY FLOWER REGULATIONS
The use of flowers is an eloquent testimony of love and respect and is a beautiful and effective memorialization. The cemetery reserves the right to regulate the method of decorating graves in order that a uniform beauty is maintained:
No permanent flower vases or receptacles may be placed on any grave, mausoleum crypt or columbarium niche, unless of approved material composition, sign and design. Such vases or receptacles are available for purchase at the cemetery office and will be set by the cemetery.
The cemetery has the authority to remove all floral designs, flowers, weeds, trees, shrubs, plants, or herbage of any kind from the cemetery as soon as, in the judgment of the superintendent, they become unsightly, dangerous, detrimental, diseased, or when they do not conform to cemetery standards.
The cemetery will not be liable for any items not placed in the standard vase units. These items not in the vase unit may be damaged or destroyed by mowers or other equipment used in the maintenance of the grounds.
The cemetery will not be responsible for any plants, flowers or items damaged by the elements, thieves, vandals, or by other causes beyond its control. The cemetery will not be liable for lost, misplaced, or broken vases or receptacles. Please limit memorial items to a minimum.
Thank you for your cooperation in helping to keep the cemetery grounds looking their best.
Learn how you and your family can save money and avoid additional grief by pre-planning your burial in Lodi Memorial Park & Cemetery. Click HERE to request a free Cemetery Space Planning Kit!