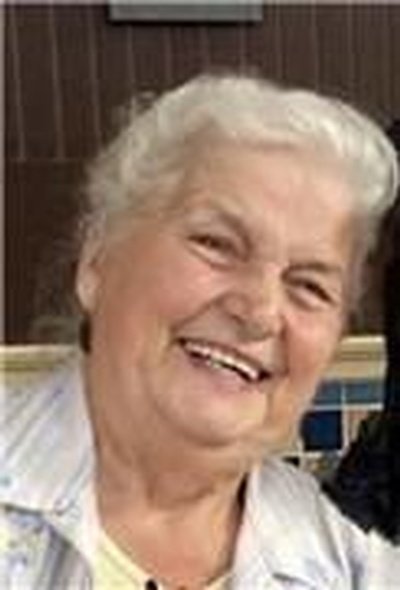 Obituary of Jessie Fonzi
Please share a memory of Jessie to include in a keepsake book for family and friends.
Jessie Jacqueline Pollard was born to a loving extended family on July 9th, 1934, in Eureka, California. A tone of love and family acceptance was established by Jacquie's grandparents, Fred and Eva, Pollard, and their daughter, Jessie, Jacquie's adopted mother. Jacquie spent the majority of her formative years at the family's beloved "ranch," in Sonoma County. The ranch was a meeting place for various aunts and uncles, and the source of adventures that have grown in their colorful description through the years. It was there under Gram's watchful eye, that Jacquie learned to gather eggs, milk a cow, and develop a temperament of patience that would serve her well her entire life. She made a daily six-mile round trip walk to elementary school in Cazadero, and developed a vivid imagination during those long walks through the countryside. There was nothing imaginary about her run-in with a nest of angry wasps one day, or helping her grandfather clean out the spring, the family's source of water. Jacquie developed a brotherly relationship with her first cousin, Clyde, and enjoyed the comings and goings of her cousins, aunts, and uncles. The entire dynamic of the ranch changed with the death of Fred Pollard. While the family retained the property, Eva stayed with her children in various Northern California cities, before settling in Santa Rosa. It was during her time in Stockton, with her mother, Jessie, that Jacquie found a part of the world that would remain her home for the majority of her life. Jessie met and married Eugene Short, an educator, who would become an instructor, and eventually principal of Linden High School. Gene adopted Jacquie, who graduated from Linden High, in 1951. It was during her high school years that Jacquie met a young man who had just returned from his Navy service in World War II. Jacquie and Sam Fonzi were married in April of 1953. Sam was also a graduate of Linden High School, and the couple raised four children in Linden, Joe, Jim, Jeanne, and John. To say that Jacquie was a contributor to the Linden community would be a severe understatement. She was an active member of the Linden Young Homemakers, The Order of the Eastern Star, The International Order of Rainbow Girls, was a choir member and soloist in the Linden Methodist Church, and a founding member of the Linden Volunteer Emergency Service. Multiple generations of Linden residents can recall the many jobs Jacquie held in order to provide for her family. From rural mail and newspaper delivery, to teaching piano lessons in her living room, to working as a medical assistant for Dr. Harry Sandberg, Jacquie was a fixture in Linden, always approaching her responsibilities with a smile. Her children remember her as someone who always volunteered to be a room mother, load up the station wagon with classmates on field trips, and never tire of making sure the kids got to their sporting events, music lessons, and academic pursuits. It's unclear who enjoyed the Disney movies, the baseball games, or the musical excursions more, Jacquie or the kids. In her later years, Jacquie never lost the desire or her ability to sit with her grandchildren and help with a puzzle, teach them a song, or tell them about her long walk to school when she was their age. She also established a network of good friends in the Stockton area with whom she socialized, pursuing some of her favorite endeavors, the arts and political activism. Jacquie was also able to spend a great deal of her later years at that scene of her favorite childhood memories, the family ranch. In the early morning hours of Friday, December 21st, Jacquie passed away after a lengthy illness at the age of 84. She is survived by a sister, Eva Sady, three first cousins, Roberta and Jerry Pollard, and Clyde Bertrand, her four children, and nine grandchildren. In her final days she expressed her appreciation of the gift of a life well-lived, and a desire for her friends and family to work toward her perpetual desire to achieve a better world. A celebration of Jacquie's life will be held at the Gypsy Bistro Restaurant, in Lockeford, on Saturday, January 19th, at 11:00 AM.
To send flowers to the family or plant a tree in memory of Jessie Fonzi, please visit Tribute Store
Services for Jessie Fonzi
There are no events scheduled. You can still show your support by sending flowers directly to the family, or planting a memorial tree in memory of Jessie Fonzi.
Visit the Tribute Store


Share Your Memory of
Jessie